Bio Button
Due to its herbal content, BIO BUTTON can be considered as a unique product that is eco-friendly. Contrary to to the long period of time for break down of the plastics into materials, this product is developed as bio degradable since it mixes into the earth without leaving any toxins behind. It takes only two years for the related raw material to disappear.
The herbal raw material and the product itself owns biodegradable certification from TUV Austria, that labels bio based developments.
Four statements which characterize BIO BUTTON:
Dissolves in the nature gradually.
Do not contain any toxic element.
Organic product.
The product does not have greenhouse effect.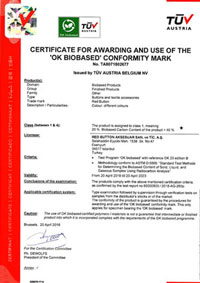 The product owns "ok biobased" certification from TUV AUSTRIA as globally accredited institute that also guarentees product traceability on the market.